Since 2013, in partnership with Taylor and Francis, IACFS/ME has published a quarterly, peer-reviewed medical journal. 
Fatigue: Biomedicine, Health and Behavior is an international, interdisciplinary journal that addresses the symptom of fatigue in medical illnesses, behavioral disorders, and specific environmental conditions. These broadly conceived domains, all housed in one journal, are intended to advance research on causation, pathophysiology, assessment, and treatment. The content that we seek includes original research papers, literature reviews, meta-analyses, data-based theoretical papers, short reports, qualitative studies, innovative case studies, conference reports, expert interactive commentary, and letters to the editor.
The list of topics covered in Fatigue will include fatigue in diseases including cancer, autoimmune diseases, multiple sclerosis, pain conditions, mood disorders, and circulatory diseases.  The journal will also publish papers on chronic fatigue syndrome, fibromyalgia and related illnesses.  In addition, submissions on specific issues involving fatigue in sleep, aging, exercise and sport, and occupations are welcomed. More generally, the journal will publish on the biology, physiology and psychosocial aspects of fatigue. The Editor also welcomes new topics such as clinical fatigue education in medical schools and public health policy with respect to fatigue.
We publish a number of different article types in addition to regular articles, including Short Reports, Reviews, Case Studies, Commentaries, and more. For more information on the types of manuscripts considered for publication click here.
Physicians, research scientists, psychologists, nurses, physical and occupational therapists, and other health researchers and clinicians who value knowledge of fatigue as an important factor in illness, aging, sleep, occupations, and exercise and athletics will find the journal informative and useful.
Peer Review Integrity
All research articles in this journal, including those in special issues, special sections or supplements, undergo rigorous peer review, based on initial editor screening and anonymized refereeing by at least two independent referees.
Online Journal Access
Professional, Lifetime, and Supporting Members:
Click on the right-sided "Resources" link that appears on the Member Info Hub Welcome page. Then click the access journal links on the next two webpages to obtain full-text access to the journal.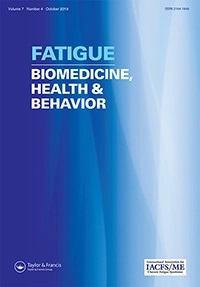 Associate Members:
1. If you are a journal subscriber, log into your account. On the Member Info Hub Welcome page, click "Resources" on the right. Then click the journal access links on the next two webpages to access the full text of the journal.
2. If you are NOT a subscriber:
You may purchase individual articles OR subscribe to the journal at the discounted price of $20 per year (online-only) or $30 per year (print + online). Please contact us at iacfsmeorg@gmail.com to register your interest.  An IACFS/ME staff member will reply to your request.
Non-members: You may purchase individual articles OR subscribe to the journal via this link.
Please consider joining IACFS/ME. Subscribing to the journal alone costs $190 per year without membership. Joining saves you money.
If you join as a Professional member, online journal access is included with your membership and you may purchase a print subscription for an additional $30 per year. Professional membership is only $125 annually or $195 for 2 years.
If you join as an Associate member, you may purchase an online-only subscription for an additional $20 per year or a print + online subscription for an additional $30 per year. Associate membership is $50 per year or $75 per 2 years.
You will also be supporting appropriate clinical care, scientific research, education, and advocacy for ME/CFS.