2023 IACFS/ME Conference - Stony Brook University Housing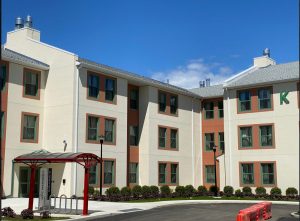 The University has changed the building attendees will be housed in from Lauterbur/ Yang to West Apartments Buildings K and E. 
Rooms must be booked by July 9, 2023. We will accept cancellations until July 7. 
CHANGES: 
a. The building is a 13-minute walk to the Conference venue, the Student Activities Center (SAC). Please see this map. The apartments are located in sector A5 and the SAC in sector C4.
b. All rooms are now single rooms with one twin bed each. Six room make up a suite. Each suite has a shared living/ dining area and 2 full bathrooms. There is also a kitchen with refrigerator, microwave, and stove. Pots, pans, plates/ bowls, and utensils are not provided however. Please see this page for building-specific information and the virtual tour for 6-room suites.
c. The price is the same for a single room, US $80 per room per night. However, because of Building K and E only have single beds in each room, room mates are no longer possible. If you have already booked a room to be shared and thus the charge was split, we will not charge you more. You and your roommate will now be in the same suite but each have a separate room.
Please contact us at iacfsmeorg@gmail.com if you have questions or concerns.
HOUSING SUMMARY: 
Address: Building K or E, 400 Circle Road, West Drive Stony Brook, NY 11790-3411
Map link: https://goo.gl/maps/RmpjsjCc3fSskeQn6
For detailed conference housing information and policies, please see this page. By booking university housing, you agree to comply with housing rules and policies.
 1. Restrictions
a. No one under 18 years old is allowed in University Housing.
b. Housing guests must be conference attendees, not family members and friends.
c. People in the same suite must be the same gender.
2. COVID-19 Policy
a. Currently, there are no vaccination, pre-testing, or masking requirements for University housing. However,
you can choose to wear your mask in public spaces.
b. If you become sick with COVID-19, the University requires you self-isolate in your room for the majority
of your stay.
3. Parking on Campus: 
a. Parking is free in the lots surrounding housing for housing guests. Please tell staff when checking in so they register your car and assure you are in the right lot.
b. Elsewhere on campus, you may need to pay for parking. See here for more information. Some lots are free on weekends.
4. Public Transport: Getting Around Without A Car
a. If you are using a taxi or ride share service (Uber, Lyft) to get to Housing, use the address above.
b. SBU Campus Shuttle has multiple routes and is free to use. The Outer Loop route runs on the road ringing the campus with stops near the Student Activities Center, West Apartments ("West G" stop), and Long Island Railroad Stony Brook station.
See Schedule D on the second page of this PDF for the map and running times. Generally, the Shuttle runs from 7 AM - 10:30 PM weekdays and 8 AM - 5 PM Saturday.   Live views of the Shuttle can be accessed here or via an app (Android and Apple).
c. Suffolk County Transit System  - This the public bus system that travels within and beyond the SBU campus. Scroll down for routes that come on campus. Pay attention to hours any route operates.
d. Local taxi service: One example is Stony Brook Taxi and Airport Service.
5. Check-In/ Check-Out:
a. Check-In is primarily on July 26, from 3 to 5 PM, and then again from 8 to 9 PM. If you need to check in outside these times, please notify us iacfsmeorg@gmail.com.
b. Check-Out can be as late as 1 PM on July 29.
c. Please keep track of your building and door keys and cards. Notify building staff immediately if you lose them. A fee will be charged otherwise for lost keys/ cards.
6. Housing Amenities:
a. Free 3-day, campus-based Wi-Fi access for stays and activities is available. See here.
b. Bed linens and towels are provided. Basic toiletries are also available on request.
c. Rooms are air-conditioned.
d. Laundry is available but you must bring your own detergent, dryer sheets, etc. See here.
e. Suites are not cleaned daily. If you require additional cleaning or supplies (e.g., toilet paper), please contact building staff.
7. Dining 
a. Each suite has a kitchen with microwave, refrigerator, stove so you may bring/ buy/ store food and prepare simple dishes. No pots, pans, plates, bowls, utensils are provided.
b. The Student Activities Center - where the Conference takes place - has a food court which will be open during breakfast and lunch hours. They do not take cash, only credit/ debit cards. Evening hours may be limited.
c. This is a campus-wide map of eateries, food trucks, vending machines, and small groceries. Summer hours may be limited or different so ask re-visit the web page nearer to July 27 or ask housing staff on arrival.
c. The Long Island Railroad Station is a 20-minute walk away and has a cluster of places that are open late. The Campus Shuttle via the Outer Loop route can take you to the Railroad Station also.
d. The Northern Coast Kitchen in the Hilton Garden Inn is a 20-minute walk.
e. Food/ grocery delivery services UberEats, DoorDash, and Instacart are also available.
8. Emergencies
a. The emergency telephone number for the United States is "911". It is available 24 hours a day every day of the week. 911 will help connect you to emergency medical care/ ambulances, police, and the fire department. If you are not sure a medical issue requires emergency care/ an ambulance, it is better to assume you do and call 911.
b. Otherwise, depending on the situation, you can try contacting building staff. University Police can also be contacted at their emergency dispatch 631-632-3333.
c. Stony Brook University Hospital is nearby. The Emergency Department number is: (631) 444-2465.
d. Walk-in Clinics: This is for minor urgent issues (e.g., colds, sprains, cuts). Please check with each clinic their policies regarding payment and insurance coverage. International travelers should consider travel insurance covering medical care.
CityMD (Lake Grove): (631) 731-4449
North Shore Immed Care (Port Jefferson Station): (631) 331-1100
City MD Health (Port Jefferson Station):  (631) 474-5900
City MD Health (Smithtown): (631) 630-5900
Northwell Health - GoHealth Urgent Care (631)-315-6758
9. Travelling to the Stony Brook University Campus: Please see this page for directions to the Stony Brook Campus and multiple maps.